It occured to me that the things I use are pretty under represented on this site. I aim to correct that.
Lets start with the Razors.
I have three Gillettes - a Fatboy, a 40's era Super Speed, and a '67 Super Speed.
The Fatty: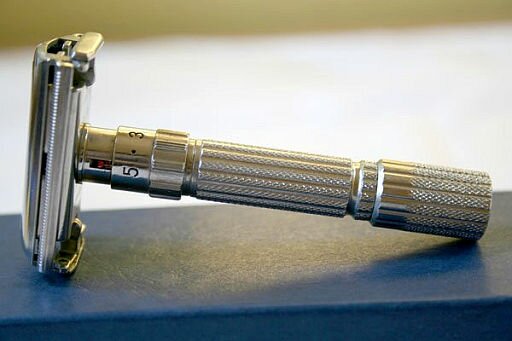 Note the numbers near the head of the razor - this is the adjustment dial.The lower knob twists to open the butterfly doors.
The '67:
This isn't mine, just a picture of a similar razor.
And the 40's (Gillette didn't mark specific years of manufacture until the 60's I believe. Correct me if you have better info):
This is also not mine. Just a picture of the same type. This one is much cleaner than mine.
The brush I will have to take an actual photo of - more on that later.
The lathering bowl:
I picked this Cappuccino mug up at Target for $4. It does a decent job.
C.O. Bigelow Shave Cream:
This has been the most successful cream for me so far. I really like the Menthol in it.
AoS Peppermint Face Wash:
The peppermint really helps give you a kickstart in the morning. I love waking up to this scent.
AoS Toner:
Toner is a vital part of keeping your skin healthy. Google it now, thank me later.
AoS Sandalwood Aftershave Balm:
This is the stuff that kicked off my personal shaving revolution. Once I tried it there was no going back.
Lucky Tiger Moisturizer (that's right, I kick it old school.):
Good stuff - been around since the '30s I think...
And of course the Bay Rum:
This is what your Grand Dad's barbers shop smelled like. I told you - old school.
So apart from the things I can't add photos of yet, that is my set up. The razor blades will be added on an as used basis.
So there you have it. Add a bathroom sink, a washcloth, and my face, and you have my complete morning ritual.